Zakynthos has a great heritage in arts and crafts dating back through the centuries.

In Volimes you will find the centre of the island's textile and ceramics industry. The village is festooned with colourful textiles hanging from the garden walls as you enter the village.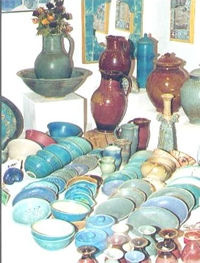 In the south, near Porto Roma you will find one of the islands most acclaimed contemporary artists. Hanne Mi runs the Zakynthian Ceramic Workshop. Hanne is a Norwegian artist who has lived on Zante since 1990.

Her studio offers:-

* Exclusive exhibitions, open to viewing and selling.
* Interesting ceramics courses in the studio offering training on throwing, trimming and decorating.
* Traditional methods of hand building, clay preparation, loading and unpacing the kiln and Raku firing.

Beginners are very welcome and you can contact her by phone on 35012 or by fax on 35319

For more information on Hanne's portfolio you can visit her website here.

(Image courtesy of Hanne Mi)






Situated on the main road just outside Laganas, you'll find the Aristoteles Leather Workshop where you can admire, purchase and export the finest leather goods and olivewood carvings. For more information on his fine artistry see his website here.




Another ceramic artist based north of Zante Town is Dionysia Avouri with her ceramic workshop and showroom in Marineika. Marineika is a small village, 3 miles from Zante Town and 20 minutes walk from Tsilivi.

You can find out more about her creations here.


(Image courtesy of Dionysia Avouri)