One of the highlights of a visit to Zakynthos is sighting the beautiful loggerhead sea turtle (Latina. Caretta caretta). The turtle is an endangered species and can be found both on Zakynthos and Kefalonia (Mounda Bay in Ratziki, Kefalonia).








Six separate beaches, approximately four kilometres in length, in the bay of Laganas host 800 to 1800 nests. The mothers come ashore between June and August at night and drag their 100kg bodies up to the dry part of the sand where they leave over 100 eggs in a chamber 40 to 60 cm deep.


They lay their eggs on beaches and sandy coves late at night, but can be frightened by human intervention such as bright lights and noise.












The mothers lay dozens of eggs under the warm sand at night to incubate.







The surviving hatchlings emerge about two months later and return to the sea.




















Twenty to thirty years later, the female adults will return to their natal beach to reproduce.









Over recent years, numbers have dwindled to less than eight hundred and in the bay of Laganas (one of the key nesting grounds) access to the beach is prohibited after sunset to allow the turtles to lay their eggs undisturbed.

Fully grown turtles can reach a size of 1.2 metres in length and a weight of 100kg.


In order to protect this endangered creature, boating activity and watersports are severely restricted in the Bay of Laganas. However, it is worth taking a boat trip to Marathonisi Island in the bay. Known as 'turtle island' after its shape, one side of the island is another breeding ground for the Caretta caretta. Many boat trips around the island will stop in the waters outside the Bay of Laganas to catch a glimpse of the turtles. If you really want to get close to one, I recommend you swim out from Gerakas beach for a couple of hundred metres and keep your eyes peeled. You need to be a confident swimmer and the best time of the day is late morning when the water may not be too warm. However, the effort is worth it!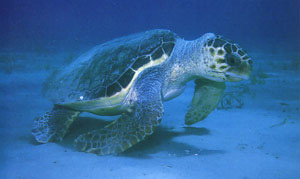 The Sea Turtle Protection Society of Greece run a scheme whereby you can sponsor a loggerhead turtle, a protected nest or a baby turtle. All proceeds go towards the society's efforts in protecting this ancient mariner. You can find more information
here
or email the society at
stps@archelon.gr
.
Along with the Greek Ministry of Environment, the Prefecture of Zakynthos and other environmental organisations, the STPS has established the National Marine Park of Zakynthos, which will ensure the future of Caretta Caretta on the island.
The Marine Park is situated on the southern coast of Zakynthos, and covers the area of Laganas, nearby beaches such as Gerakas and Keri Lake. The marine park has offices in Argasi and you can find out more information here of email for more information at info@nmp-zak.org.

It is strictly forbidden to remain on the beach after sunset. Turtles emerge from the sea to lay their eggs in the hours of darkness
Do not dig in the sand, particularly in the upper part of the beach
Do not use umbrellas that have to be stuck in the sand
Do not take vehicles on to the beach and do not allow dogs to dig.








You can view videos here